Main content starts here, tab to start navigating
Menus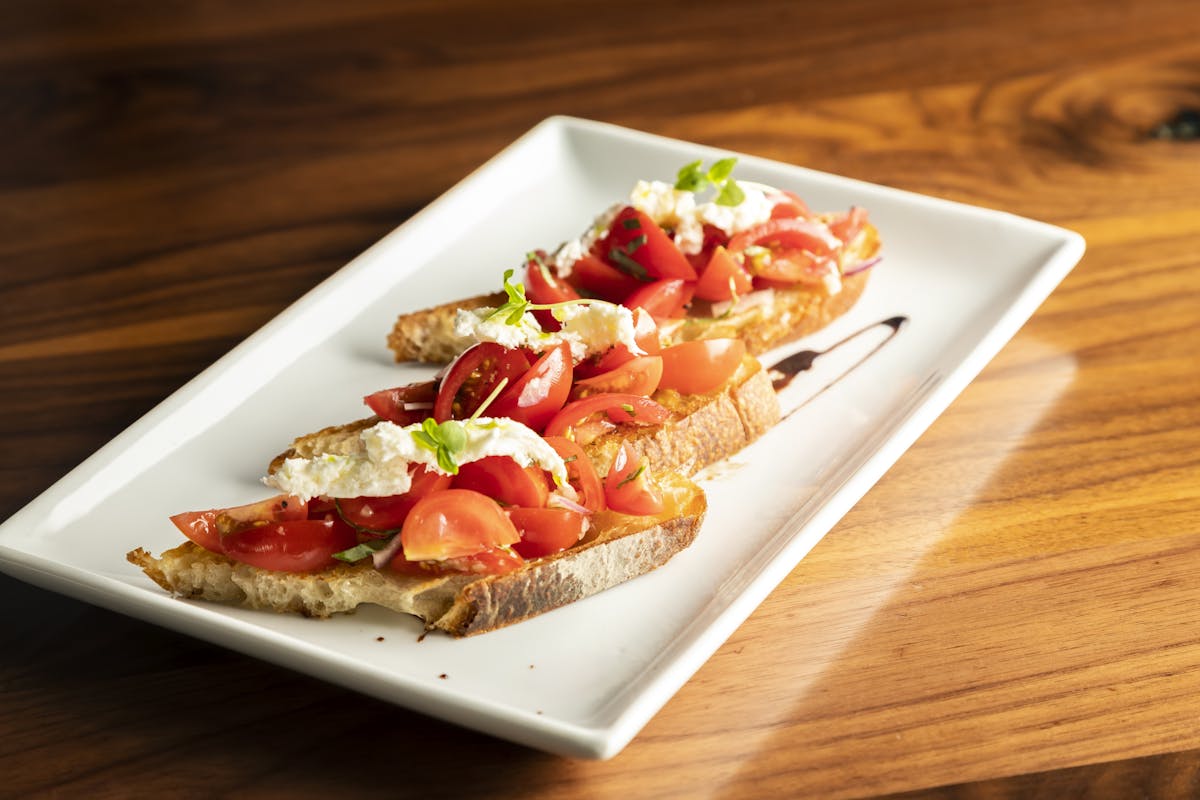 Share Plates
Garlic Knots

Croissant Dough, Garlic Butter

$8

Mozzarella Croccante

Crispy Breaded Mozzarella, Marinara

$8

Baked Goat Cheese

Herbed Goat Cheese, Marinara Sauce, Toasted Ciabatta

$13

Roasted Brussels Sprouts

Bacon, Capers, Red Onion, Pecorino, Lemon Juice

$11

Bruschetta

Vine Cherry Tomatoes, Garlic, Red Onion, Basil, Fresh Mozzarella, Ciabatta Crostini Add Avocado| $2

$10

Avocado $2

Roasted Beets

Roasted Beets, Yogurt, Pistachios, Citrus Vinaigrette

$13

Caprese Burrata

Marinated Heirloom Tomatoes, Burrata, Balsamic Glaze

$14

Zucchini Fritti

Zucchini Chips, Yogurt Dill Sauce

$10
Crispy Calamari

Fresh Calamari, Lemon, Marinara

$15

Mediterranean Mussels

Roasted Tomato Sauce Or White Wine Sauce

$17

Grilled Octopus

Nduja Tomato Sauce, Fingerling Potatoes

$19

Mama's Meatballs

Marinara, Whipped Ricotta, Parmesan

$13

Braciole

Braised Short Rib, Red Wine Demiglace, Creamy Polenta

$16

Toasted Ravioli Nachos

Braised Short Rib, Fonduta, Calabrian Chilis, Cherry Tomatoes, Giardiniera

$15

Barese Sausage & Peppers

Italian Rope Sausage With Provolone, Roasted Sweet Peppers, Garlic White Wine Sauce

$13

Fried Roman Artichokes

Calabrian Chili Aioli

$12
Soups & Salads
Add Chicken $5 • Chicken Milanese $6 • Salmon $10 • Shrimp $10 • Filet Medallions $10
Zuppa Del Giorno

Chef's Soup of the Day

$6

Local Greens

Cherry Tomatoes, Cucumber, Radish, Green Olives, Red Wine Vinaigrette

$9

Quinoa

Quinoa, Cucumbers, Radish, Green Olives, Red Wine Vinaigrette

$12

Arugula

Pears, Goat Cheese, Truffle Honey, Lemon Vinaigrette

$10
Caesar

Romaine, Shaved Parmesan, Homemade Sourdough Crostini

$10

Chopped

Romaine, Avocado, Blue Cheese, Cherry Tomatoes, Roasted Sweet Corn, Champagne Vinaigrette

$12

Antipasto

Soppressata, Kalamta Olives, Tomatoes, Garbanzo Beans, Pepperoncini, Provolone, Red Wine Vinaigrette

$15
Pasta
Add Meatball $4 • Chicken $5 • Chicken Milanese $6 • Filet Medallions $10 • Shrimp $10
Spaghetti & Meatballs

Marinara Sauce, Pecorino-Romano, Basil, Served With Garlic Bread

$19

Cacio E Pepe

Spaghetti, Caciocavallo, Ricotta, Pecorino-Romano, Black Pepper

$17

Fettuccine Alfredo

Creamy Alfredo Sauce

$17

Linguine & Clams

Middle Neck Clams, Calabrian Chilies, Scallions, Garlic White Wine Sauce

$23

Orecchiette Calabrese

Russo Sausage, Kale, Cherry Tomatoes, Calabrian Chili, Breadcrumbs, Pecorino

$20
Garganelli Alla Puttanesca

Kalamata Olives, Capers, Crushed Tomatoes, Garlic, EVOO

$19

Baked Lasagna

Herbed Ricotta, Mozzarella, Marinara

$22

Add Bolognese $3

Eight Finger Cavatelli

Vodka Sauce, Whipped Ricotta, Basil

$18

Rigatoni Bolognese

Classic Bolognese, Whipped Ricotta, Pecorino

$19

Risotto Primavera

Arborio Risotto, Zucchini, Eggplant, Bell Peppers, Peas, Pecorino Romano

$18
House Specialties
Leone's Lemon Chicken

Boneless Chicken Breast, Fresh Herbs, Roasted Potatoes

$22

Chicken Parmesan

Boneless Chicken Breast, Spaghetti, Marinara, Mozzarella

$22

Italian Roast Chicken

Bone-In Half Chicken, Served Skin-On with Sautéed Rapini, Crushed Hazelnuts, Garlic White Wine

$25

Riverside Burger

Black Angus, White Cheddar on Brioche with Lettuce, Tomato, Onion, Pickle, Fries

$15

Filet Sliders

Three Petite Filets, Maitre D' Butter, Mini Pretzel Bun, Fries

$18
Eggplant Parmesan

Crispy Eggplant, Mozzarella, Marinara, Over Sautéed Spinach

$19

Bistecca

12 oz New York Skirt Steak, Roasted Asparagus, Chianti Reduction

$38

Whitefish Picatta

Seared Great Lakes Whitefish Filet, Roasted Green Beans, Lemon-Butter Wine Sauce, Capers, Parsley

$26

Seared Salmon

Spaghetti Squash, Red Bell Peppers, Mini-Heirloom Tomato Wine Sauce

$26

Pork Chop Milanese

Lightly Breaded Bone-In Center Cut Pork Chop, Couscous

$26
Signature Artisan Pizza
Ciabatta style dough with extra virgin olive oil to develop a crispier crust. Organic imported tomatoes, local and artisan meats and cheeses create unique flavors on a crust characterized by large air bubbles throughout. 12" pizzas.
Margherita

Fresh Basil, Organic Tomato Sauce

$17

Add Sausage $3

The Dante Margherita

Organic Tomatoes, Sharp Sheep's Milk Cheese, Fresh Oregano

$18

Add Sausage $3

Arugula & Mushroom

Fresh Mozzarella, Mushrooms, Arugula, EVOO

$18

Add Prosciutto $3

Cupping Pepperoni

Organic Tomatoes, Cupping Pepperoni, Mozzarella, Hot Honey

$18

Salsiccia

Garlic Cream, Smoked Buffalo Mozzarella, Caramelized Onions, Crumbled Sausage, Baby Kale, Baby Kale, Calabrian Chili

$19
Chicago Thin Crust
Traditional Chicago style thin pizza with a perfect ratio of crust, sauce & cheese. The contrast of crispy crust, herbs & spices in the sauce & richness of the lightly browned cheese offer a balanced & flavorful experience.
Russo Sausage

Mozzarella

10" $15.50

12" $18

14" $22

16" $25.50

Add Fennel pollen $4

Danny's Special

Russo Sausage, Mushrooms, Green Pepper, Onion

10" $21

12" $26

14" $31

16" $35

Italian Beef

Thinly Sliced Beef, Giardiniera, Au Jus

10" $18

12" $22

14" $27

16" $30

BBQ Pie

Chicken, Onion, Smoked Bacon, Cilantro

10" $19

12" $24

14" $29

16" $34
Skinny Deep Dish
This skinnier version of our famous dough still has a crispy cheese crust! All pies are 12".
Russo Sausage

Mozzarella

$23

Danny's Special

Russo Sausage, Mushrooms, Green Pepper, Onion

$31

Pepperoni

Mozzarella

$23

Burrata & Basil

Mozzarella, Provolone, Pecorino, Crushed Tomatoes, Burrata, Fresh Basil

$31
Chicago Deep Dish
Our Focaccia style pan dough is double proofed & lined with mozzarella resulting in a caramelized cheese crust that is crispy on the outside while light & fluffy in the center. Add Burrata & Basil to any Deep Dish Pizza for $6.
Russo Sausage

Mozzarella

12" $25

14" $30

Add Fennel Pollen $4

Danny's Special

Russo Sausage, Mushrooms, Green Pepper, Onion

12" $32

14" $37

Pepperoni

Mozzarella

12" $25

14" $30

Burrata & Basil

Mozzarella, Provolone, Pecorino, Crushed Tomato, Burrata, Fresh Basil

12" $32

14" $37
Create Your Own Pizza
Thin Crust

Cheese Price | Price Per Topping

10" $13 - $2.50

12" $15 - $3

14" $19 - $3.25

16" $22 - $3.50

Skinny Deep Dish

Cheese Price | Price Per Topping

12" $20 - $3

Deep Dish

Cheese Price | Price Per Topping

12" $22 - $3

14" $27 - $3.50

Toppings

Anchovies | Bacon | Banana Peppers | Black Olives | BBQ Sauce | Cheese | Chicken | Cupping Pepperoni | Fresh Basil | Fresh Tomatoes | Giardiniera | Garlic | Goat Cheese | Green Peppers | Ham | Hot Honey | Italian Beef | Italian Sausage | Jalapenos | Meatballs | Mushrooms | Onions | | Pepperoni | Pineapple | Ricotta | Spinach

Gluten Free Dough

Cheese Price | Price Per Topping

10" $15 - $2.50
Beverages
White
Avissi

Prosecco, Veneto, Italy

$10 - $40

Ruffino

Pinot Grigio, Tuscany, Italy

$9 - $36

Cora, Colline Pescaresi

Pinot Grigio, Abruzzo, Italy

$10 - $40

Sartarelli

Verdicchio Classico, Marche, Italy

$11 - $44

Pine Ridge

Chenin Blanc + Viognier, Napa Valley, California

$11 - $44

Oyster Bay

Sauvignon Blanc, Marlborough, New Zealand

$10 - $40

Clean Slate

Riesling, Mosel, Germany

$10 - $40

Colterenzio "Altkirch"

Chardonnay, Alto Adige, Italy

$13 - $52

Raeburn

Chardonnay, Russian River Valley, California

$14 - $56
Rosé
Studio by Miraval

Provence, France

$12 - $48

Whispering Angel

Provance, France

$14 - $56
Red
Angeline

Pinot Noir, Central Coast, California

$10 - $40

Meiomi

Pinot Noir, Central Coast, California

$13 - $52

Charles Smith Velvet Devil

Merlot, Columbia Valley, Washington

$10 - $40

Quercetto

Chianti Classico DOCG, Tuscany, Italy

$11 - $44

Nipozzano

Chianti Riserva, Tuscany, Italy

$14 - $56

Vista Flores

Malbec, Mendoza, Argentina

$11 - $44

Ferrari Carano "Siena"

Red Blend, California

$13 - $52

Antale Verga "Veneto"

Red Blend, Veneto, Italy

$11 - $44

Gala

Montelpuciano, Abruzzo, Italy

$10 - $40

Coppola Claret

Cabernet Sauvignon, California

$12 - $48

Catena

Cabarnet Sauvignon, Mendoza, Argentina

$14 - $56

Juggernaut

Cabernet Sauvignon, California

$14 - $56
Cocktails
Village Old Fashioned

Old Forester Classic Bourbon, Allspice, Simple Syrup, Orange Bitters, Muddled Orange, Amaretto Cherry

$14

Casa Barra Margarita

Herradura Silver Tequila, Grand Marnier, Fresh Lime Juice, Agave Nectar

$14

Riverside Living

Deep Eddy Real Peach Vodka, New Amsterdam Red Berry Vodka, Cranberry and Orange Juice

$12

Olmsted's Mule

Tito's Vodka, Lime Juice, Simple Syrup, Blackberries, Ginger Beer

$12

The Shady Lady

Cruzan Blueberry Lemonade Rum, Stoli Cranberry Vodka, Lemonade, Fresh Raspberries

$12

Italian Manhattan

Benchmark Bourbon, Averna Amaro, Carpano Antica Formula Sweet Vermouth, Angostura Bitters, Amaretto Cherry

$14

Mediterranean Spa-Tini

Prairie Organic Cucumber Vodka, Figenza Fig Vodka, Lemon Juice, Simple Syrup, Grated Lemon Zest

$13

Renzolatti

Malfy Gin Con Limone, Figenza Fig Vodka, Cranberry and Lime Juices, Simple Syrup

$13

Teddy's Krafft

Campari, Ketel One Vodka, Orange Juice

$13

La Rossa Spritz

Prosecco, Aperol, San Pellegrino Aranciata Rossa, Bitters

$13

Joe La Espresso Martini

Van Gogh Double Espresso Vodka, Caffe Borghetti Espresso Liqueur, Espresso Shot, Simple Syrup

$15
Italian Whites
Villa Sparina

Gavi di Gavi DOCG, Piedmont

$50

Zenato

Lungana San Genedetto, Lake Garda

$45

Terlato

Pinot Grigio, Friuli

$70

Donnafugata Anthelia

Lucido (Cataratto), Sicily

$50

Saracco

Moscato di Asti, Piedmont

$45

Castelvecchio Vin Santo

Tuscany (1999 500 ml)

$60
Interesting Whites
Alpha Estate

Sauvignon Blanc, Amydeon, Greece

$55

Dr. Loosen "Dr. L"

Riesling, Mosel, Germany

$40

A-to-Z

Pinot Gris, Oregon

$50

Jordan

Chardonnay, Russian River Valley, California

$100
Sparkling
Billecart- Salmon

Brut Reserve, Champagne, France ( 375ml)

$70

Gloria Ferrer

Brut, Sonoma California

$55

Santa Margherita

Brut Rose, Trentino

$60

Veuve Cliquot

"Yellow Label", Brut, France

$110

Castello Del Poggio

Moscato, Piedmont (Split 187ml)

$12
Italian Reds
Vietti "Tre Vigne"

Barbera D'Asti DOCG, Piedmont

$50

Cancello Del Barone

Barbaresco Riserva, Piedmont

$70

Ruffino "Tan Label"

Chianti Classico Riserva, Tuscany

$80

Poggio Anima Asmodeus

Nero D' Avola, Sicily

$45

Pertinace

Langhe Nebbiolo, Trieso

$55

Ellena Guieseppe

Barolo La Morra, Piedmont

$120

Tomassi

Valpolicella Ripasso, Veneto

$70

Tinazzi "Opera #3"

Red Blend, Italy

$60

Vino Dell' Amicizia

Pinot Noir, Veneto

$50

Latium Campo Leon

Amarone, Veneto

$90
Interesting Reds
Machete

Red Blend, California

$150

Involuntary Commitment

Red Blend, Columbia Valley, Washington

$60

Van Duzer

Pinot Noir, Wilamette, Oregon

$70

Decoy

Cabernet Sauvignon, Sonoma, California

$80

Miner

Cabernet Sauvignon, Napa, California

$125

Trig Point

Cabarnet Sauvignon, Alexander Valley, California

$70

Prisoner

Red Blend, Napa, California

$110

Earthquake

Zinfandel, Lodi, California

$50